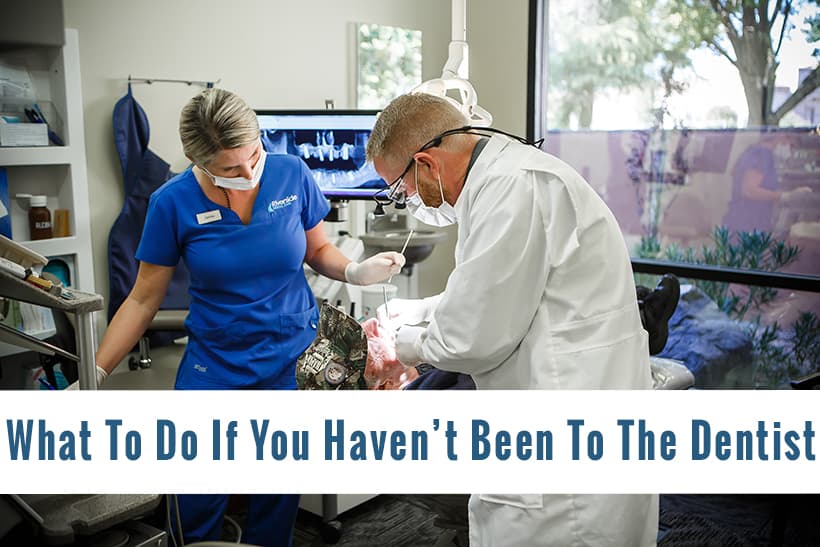 So it's been a while since you've been to the dentist. Perhaps financial reasons, fear, moving, or just plain time passing by has kept you from the dentist. The most important thing for you to know is that you're not alone. This is actually a common occurrence and as dental professionals we want you to know that there is no need to feel embarrassed. This is a great time to recommit to caring for your oral health and we have a group of caring dental professionals that would love to help you get your dental health back on track!
So Where Do You Start?
The first step is scheduling a comprehensive oral exam. At this appointment, a thorough evaluation will be done to determine the health of your teeth as well as your gum tissue. Dental x-rays will be taken as they are a very important tool in the diagnosis of gum disease and cavities.
If your gum tissue appears to be in overall good health, you will also have a prophylaxis done. If your gum tissue is not as healthy, scaling and root planning can help give additional focus to your gum tissue and bring it back to health.
What To Expect When Getting Back Into The Dental Chair?
Since it's been awhile, your gum tissue may have more inflammation than usual. Inflammation can lead to your gum tissue being more sensitive and inflammation also leads to more bleeding. This is what we typically notice for the majority of patients whom haven't been to the dentist in several years. The good news is that our mouths are very responsive to change and they heal rather quickly. A good cleaning will remove bacteria, tartar buildup, and stains. From here, our bodies know how to respond and within a few days the inflammation will calm down. Within a few days following your cleaning, you should notice less bleeding when flossing and that your gum tissue isn't sore at all.
If an achy tooth has brought you back to the dentist after many years, you may be experiencing a dental infection. A dental x-ray will help to verify this and if an infection is present, your dentist will likely prescribe an antibiotic. The antibiotic will help clear the infection and get you out of pain.
What Is This Going To Cost?
Financial concerns keep many from seeking routine dental treatment. Dental insurance does help cover comprehensive evaluations and many of them also have benefits for preventative cleanings, scaling and root planing, dental x-rays, and restorative treatment. Don't stress if you don't have a dental insurance policy, flex savings accounts (FSA) can also be a great way to pay for dental services. You can learn more about our dental services by browsing our website.
A comprehensive evaluation, dental x-rays, and traditional prophylaxis without dental coverage usually costs a few hundred dollars. If this is outside of your financial means, we encourage you to still connect with us. As your dentist in St George, UT, we have a free dental day each year where we donate services to those in need. We also have different payment options available to help fit with your financial needs.
Don't Let Anxiety Keep You From Getting The Dental Help You Need
It is quite common for people to feel anxious about coming back to the dentist. If you find yourself feeling this way, we want you to know that it is very important to us that you are comfortable and at ease during your dental appointment. Some of these tips can be helpful in minimizing anxiousness:
1. Be open with the dentist and dental hygienist about how you are feeling.
2. Listen to relaxing music through head phones.
3. Don't drink caffeine before your appointment.
4. Feel free to ask questions, we want to help you get answers to your questions!
Your just an appointment away from getting back on track with your dental health! To schedule your comprehensive dental evaluation please call us or schedule an appointment online.