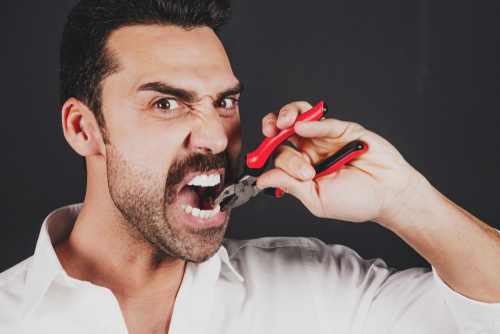 The quick answer is "no". While it's likely that you pulled out a tooth or two when you were a child, this doesn't classify you as one who is experienced to do your own extractions. nor does it justify pulling your tooth out as an adult.
When it comes to removing a tooth, many assessments are done in our dental office to determine which tooth is the correct tooth to extract. X-rays, cold-sensitive tests, pressure tests, and dental history help our dental team to determine what is going on with your tooth. Not having these tools at your fingertips can make the extraction process tough. How would you know which tooth is actually causing you pain?
Pulling out an adult tooth comes with its own set of dangers and concerns.  We encourage you to visit your dentist for any tooth removals that you need so that you can avoid these dental pitfalls.
Pain
Pulling out your own tooth can be painful. When you get your tooth extracted by your dentist or the oral surgeon, local anesthetic is used to reduce or eliminate the pain that you feel during the extraction. 
In addition to local anesthetic, your dentist has the proper tools to extract your tooth with ease. Forceps that your doctor has are specially shaped for specific teeth. They are angled properly to help make for easy upper and lower extractions.
Tooth Damage
Pulling out your tooth incorrectly could actually crush or even break your tooth. If this happens, a shattered or fractured tooth could take more effort and money to extract. Not only could the tooth be damaged but the surrounding tissues and jawbone could also be affected. If you damage your surrounding gum tissue, this could be painful. It may lead to infection or even lead to gum tissue problems with other teeth. 
Pulling A Tooth That Was Savable
It is possible that your dentist could save your tooth. What you think needs to be extracted, might actually be savable with other dental work. 
It is also possible that you could think one tooth is the culprit for bothering you, but it is actually another tooth.  If you pull the one that you think is bothering you, you might find yourself quite surprised when it's out and you still are feeling pain. 
Loose Bacteria
When you extract a tooth that is infected, the bacteria that has caused the infection could cause even more problems if not removed properly. Once a tooth is extracted, the wound area remains open for a few weeks until the body is able to heal this site. This is a prime place for bacteria to enter and cause problems if proper care is not taken. 
While this is a rare occasion, it should also be noted that bacteria can enter the bloodstream and cause health problems in other areas of the body such as the heart. 
Jawbone Deterioration 
One of the biggest long-term concerns for having a tooth extracted is that the jawbone will deteriorate over time in this area. If there is no root in the jaw bone, then the jaw bone won't be stimulated and will slowly break down. This can cause problems with sunken cheeks and affect your facial profile and appearance.
To avoid jawbone deterioration, your dentist could place an implant in place of your missing tooth. Having an implant in your jawbone will help to stimulate the jaw bone to remain. 
There are some things that are best left to the experts, pulling teeth is definitely one of them. From pain to permanent damage that could result from you extracting your own tooth, we suggest that you let your dentist or oral surgeon complete this task.