Riverside Office Hours
Mon, Wed: 7 am – 7 pm
Tues, Thurs, Fri: 8 am – 5 pm
Saturday: Emergencies Only
Washington Office Hours
Mon, Wed, Fri: 8 am – 5 pm
Tues, Thurs: 7 am – 7 pm
Saturday: Emergencies Only
Riverside Dental Care – Your St. George, Utah Dentist
Dr James K. Ott, Dr David R. Stevens, Dr. Wade Stevens, Dr. Matt Snyder, Dr. Roundy, and our amazing staff are here to serve you as the local family dentist that you can trust. We love our patients and we love giving back to the community. If you are a current patient we thank you for continuing to come back to us. If you're a new patient we look forward to meeting you.
Let us be your St. George Dentist! As the premier St. George dental office, we work hard to make sure you enjoy your trip to the dentist by providing the most advanced dental care. To schedule an appointment, please call our office at 435-673-3363. We will be happy to answer any questions you may have about our practice or the benefits of proper dental care. We are confident that you are going to have a good experience. We look forward to hearing from you soon!
Riverside Dental Community Events
We love to give back to the community, that is why we created the four events below so we can do our best to help people in need every year.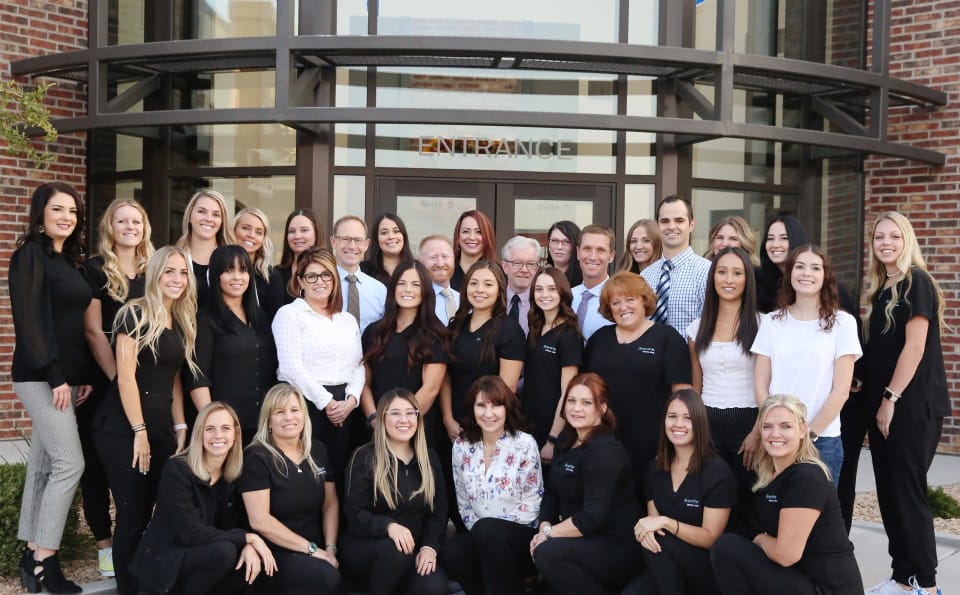 About Riverside Dental Care
We are the premier family dental practice serving the Southern Utah area. Our doctors and staff have years of experience and our patients keep coming back, so we must be doing something right.
---
Since your smile is one of the first things people notice about you, we know how important it is to feel confident in your smile. We specialize in cosmetic and sedation dentistry. We believe the best smile begins with having healthy gums and teeth. We have the technology as well as the experience to give you the smile you always dreamed of. We are committed to providing you and your whole family the very best in dental care. Please come visit us at our office where every patient is treated with compassion and care, we are ready to assist you in any way we can.
Learn More
We specialize in all areas of family dentistry
What Patients Are Saying…
I Always Feel I Am Getting The Best Care While I Am At Riverside Dental.

Lauren Patterson

My hygienist was so thorough. I have type one diabetes and she made sure I knew how it can impact my oral health and my oral health can impact my diabetes. She was so nice and friendly, as well as being proficient at her job. Dr. Stevens is always so friendly and personable. He and his staff are top-notch. I always feel I am getting the best care while I am at Riverside Dental.

Riverside Dental Care Went Above And Beyond For Me

Christina Schroeder

Riverside Dental Care went above and beyond for me...The dentist took the time to talk with me about what he knew about how to achieve better quality sleep. Without dental insurance, I was pleasantly surprised that the prices were fair. And in addition to all this, the three dental professionals that I interfaced with during my visit were exceptionally kind, very patient, and very professional. I will be back. It is so relieving to know I now have an excellent dentist office I can call on and have my regular care.

Can You Believe It – A Fun Experience At The Dentist!

Mary Ronnow

Everyone at Riverside dental was extremely accommodating. Dr. Stevens listened intently to my concerns and goals. Together we came up with options for a treatment plan. I went in with a chipped front tooth and came out looking great. It was a fun experience. Yes, can you believe it- a fun experience at the dentist!

I Am No Longer Afraid Of Going To The Dentist.

Karen Lundgren

My husband and I are a much older couple. Al commented in all his years of going to the dentist, this was probably the best experience he's had. He said whenever he winced, Dr Wade Stevens would immediately stop and asked if was feeling "that". Al required two more shots. He was impressed with the attention to detail and both of us are impressed with the delightful staff. The women working as assistants, reception, hygienist, and billing are always happy and upbeat. For the first time in my almost seven decades... I am no longer afraid of going to the dentist.