Riverside Office Hours
Mon, Wed: 7 am – 7 pm
Tues, Thurs, Fri: 8 am – 5 pm
Saturday: Emergencies Only
Washington Office Hours
Mon, Wed, Fri: 8 am – 5 pm
Tues, Thurs: 7 am – 7 pm
Saturday: Emergencies Only
Riverside Dental Care – Your St. George, Utah Dentist
Dr. James K. Ott, Dr. David R. Stevens, Dr. Wade Stevens, Dr. Matt Snyder, Dr. Curtis Roundy, and our amazing staff are here to serve you as the local family dentist that you can trust. We love our patients and we love giving back to the community. If you are a current patient we thank you for continuing to come back to us. If you're a new patient we look forward to meeting you.
Let us be your St. George Dentist! As the premier St. George dental office, we work hard to make sure you enjoy your trip to the dentist by providing the most advanced dental care. To schedule an appointment, please call our office at 435-673-3363. We will be happy to answer any questions you may have about our practice or the benefits of proper dental care. We are confident that you are going to have a good experience. We look forward to hearing from you soon!
Riverside Dental Community Events
We love to give back to the community, that is why we created the four events below so we can do our best to help people in need every year.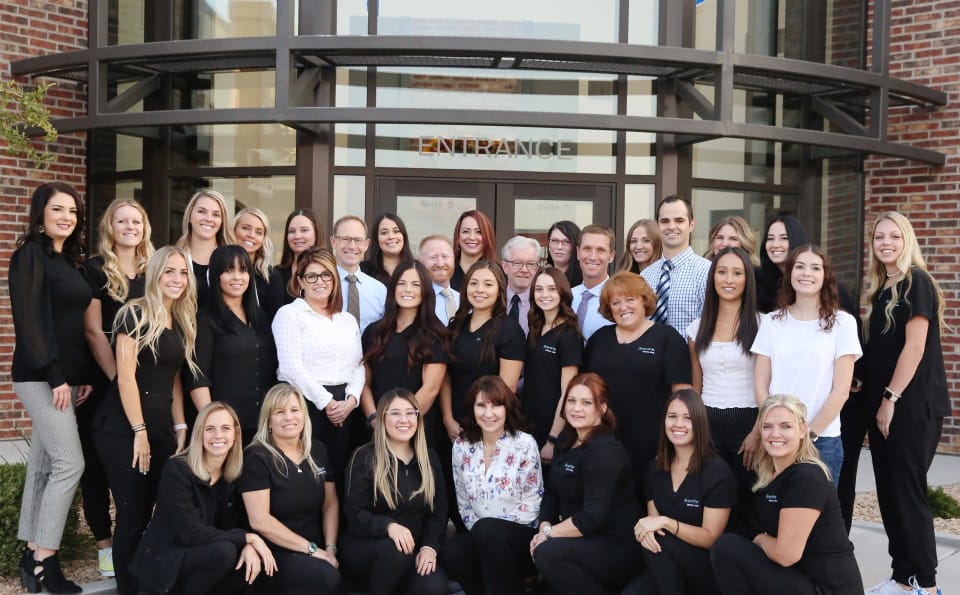 About Riverside Dental Care
We are the premier family dental practice serving the Southern Utah area. Our doctors and staff have years of experience and our patients keep coming back, so we must be doing something right.
---
Since your smile is one of the first things people notice about you, we know how important it is to feel confident in your smile. We specialize in cosmetic and sedation dentistry. We believe the best smile begins with having healthy gums and teeth. We have the technology as well as the experience to give you the smile you always dreamed of. We are committed to providing you and your whole family the very best in dental care. Please come visit us at our office where every patient is treated with compassion and care, we are ready to assist you in any way we can.
Learn More
We specialize in all areas of family dentistry
What Patients Are Saying…
Very Professional

Steven M.

They were very friendly and he will tell you everything that he's be done to your teeth

Always amazing care! Understanding, caring, efficient! Knows the ins and outs of dealing with dental insurance and always works hard to be sure they're paying as much of my bill as possible. Very transparent prices and exam you watch the screen as they do stuff. Also it's relaxing to watch the birds through the big pretty window in each exam room

Super Friendly Staff

Jeramiah Matsler

Everyone at this practice is super friendly and they're very receptive about any questions you have for them making it easy to be comfortable with each visit.

10 Million Stars!

Samantha A.

10 million stars if I could!! I can't express just how amazing this dental office is. Everyone at the front desk is so knowledgeable, kind, and patient. I've had so many bad and painful experiences at the dentist before that I put off going for a couple years. I had an emergency tooth break, they fit me in that night-yes night, and I was so nervous. But as soon as I came in all my fears and anxiety went away, Dr Snyder had me calm and smiling the moment he came in. And I didn't even realize Dr Snyder had given me the shots! The time went by so quickly even though I had this new, beautiful crown placed. Yep, he's THAT good. Dr Snyder makes you feel heard and is really gentle, he listened and answered all my questions with great detail. I never once felt rushed, and he told me to come back in if I had any other questions/concerns. He polished my teeth with such an attention to detail after fillings. He also remembered who I was months later which meant so much to me! He's truly the og, great of all time dentist. Thanks Riverside for making a scary situation into one of the best experiences I've had. ❤️ 10 million stars!