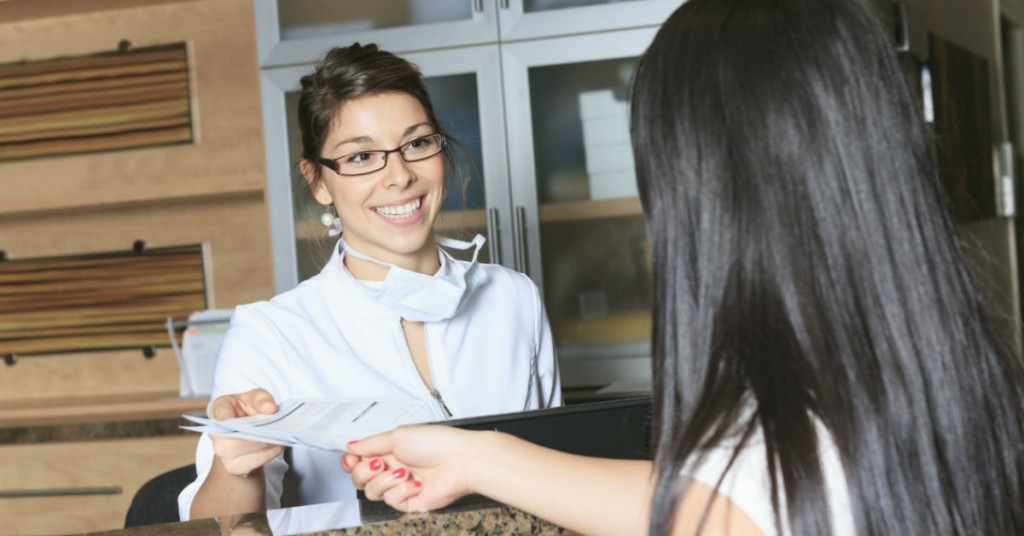 Welcome to Riverside Dental! If you are a new patient, here are some tips and tricks that will make your first visit productive and enjoyable.
FIRST THINGS FIRST — WORK THAT PAPERWORK
One of the first things you will do on your first visit is fill out paperwork. We know, we know —paperwork isn't fun, but it has to be done!
You can download the new patient forms on our site and fill them out beforehand, or you can fill them out at the office. Keep in mind that you will need information including your social security number, driver's license number, payment information, insurance information and a detailed medical history. New patients also fill out a questionnaire about their teeth and their smile goals (color, shape, alignment).
A TYPICAL DENTAL CHECK-UP
What exactly does a routine dental check-up entail?
Teeth cleaning
Medical Chart Review
Examination of teeth, gums, and entire mouth by dentist.
X-Rays
Flouride
Discussion of any issues or proposed treatment
Keep in mind that this is a typical visit. We put the patient first and tailor our services to your needs. If one of your teeth is bringing you to tears, make sure to tell the hygienist right away and he/she will keep that in mind during the cleaning and examination.
IF IT'S BEEN A WHILE SINCE YOUR LAST DENTIST VISIT . . .
If you haven't been to a dentist appointment in years, be prepared for a longer visit and a little discomfort. The longer you go without dental cleanings, the more plaque will need to be removed from the teeth during the cleaning portion of the appointment. The discomfort usually comes into play during flossing But here is the good news — we promise to spare you the lecture on your absence and welcome you with open arms, no questions asked.
YOU'LL LEAVE THE DENTIST'S OFFICE BETTER THAN YOU CAME
Going to the dentist doesn't usually top people's list of "Things I Love Doing In My Spare Time." But, we take pride in the fact that every time a patient spends time with us at the office, they leave with cleaner teeth and preventative care that will keep their healthy smile dazzling for years to come. Or if you come in with a cavity the size of Texas, we will do our part to fix the problem and provide pain relief as soon as possible.
WHAT TO EXPECT AT A CHILD'S FIRST VISIT TO THE DENTIST
A child's first dentist appointment is more about getting them acclimated to the idea of going to the dentist rather than any actual treatment. The dentist will count their teeth, check for any major problems and teach them about good dental habits.
SEE YOU SOON!