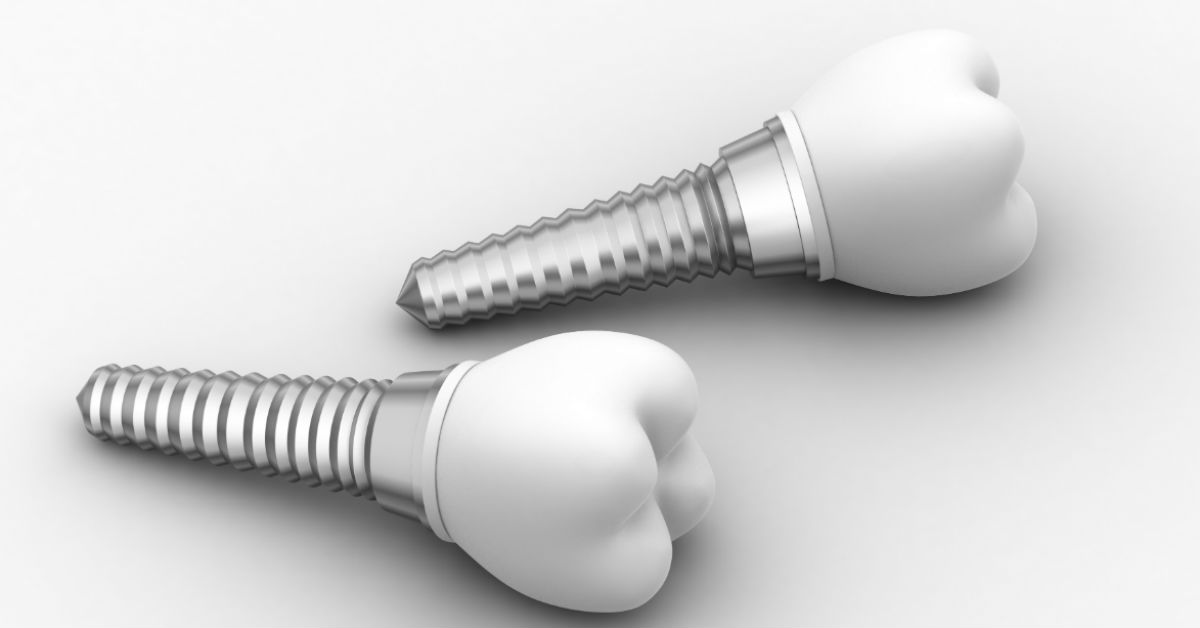 According to the American Association of Oral and Maxillofacial Surgeons, a whopping 69 percent of adults between 35 and 44 have lost at least one permanent tooth due to injury, gum disease, a failed root canal, or tooth decay. When it comes to replacing these teeth, many dentists and oral surgeons believe dental implants are the answer.
What is a dental implant? An artificial tooth root that holds a prosthetic tooth. And roughly 3 million people receive dental implants each year in the US according to the American Academy of Implant Dentistry.
What does getting an implant entail? Let's break it down.
1. SCREENING

Before you can receive an implant, your teeth must be carefully assessed. To be a good candidate for the surgery, you must have enough bone tissue to hold the implant post. Bone grafts can be done to help with this. Dental implants have an extremely high success rate (98 percent according to WebMD), but in the rare case that there is a failure, poor bone quality is often to blame according to the National Center for Biotechnology Information.
2. PREP

Your dentist will give you thorough instructions of how to prepare for your appointment. Often a special mouthwash and/or antibiotics are prescribed as preventative measures. If you will be sedated, it's important that you don't eat anything after midnight before surgery. And make sure you have someone to drive you home!
At the appointment you dentist will prepare the implant site by drilling it down and cleaning it.
3. IMPLANT PLACEMENT

Now your surgeon can place the titanium root. It typically looks like a screw or a cylinder.
4. OSSEOINTEGRATION

Osseointegration is the fusing of your bone with the implant. According to the American Academy of Periodontology, this process usually takes between 2 and 6 months. Typically upper jaw osseointegration takes longer than lower jaw osseointegration. This part of the procedure is extremely important because the implant needs a strong foundation.
Some implants have a temporary healing cap attached. Another option is to attach temporary tooth on the implant site. If this is the case, that temporary tooth will need to removed and a healing cap will be placed. The gums will then need to be given a few weeks to heal after the healing cap is placed.
5. ABUTMENT PLACEMENT

Once osseointegration is complete, the metal post your prosthetic tooth will sit on it placed. The technical term for this abutment. After the post is secured, your gums will be given some time to heal. It's important that the gum tissue grows around the implant but not over them.
6. IMPRESSIONS

After the gums are properly healed, your dentist will take an impression of your teeth. This impression is what they will send to the lab so they can make a prosthetic tooth that will fit your smile perfectly.
7. FINAL PLACEMENT

A few weeks later when the artificial tooth is completed it will be placed on the abutment. Then your dentist will make sure it fits your mouth correctly and make any necessary adjustments. Then they will send you on your way with a gorgeous healthy smile! Be sure to keep visiting the dentist regularly to make sure your implant heals correctly and is in tact.
PAIN MANAGEMENT

It is normal to experience some minor discomfort when receiving a dental implant. Swelling and redness are normal just after surgery and can be treated with a prescribed painkiller or over-the-counter medicine. However, if the pain persists, contact your dentist to discuss.