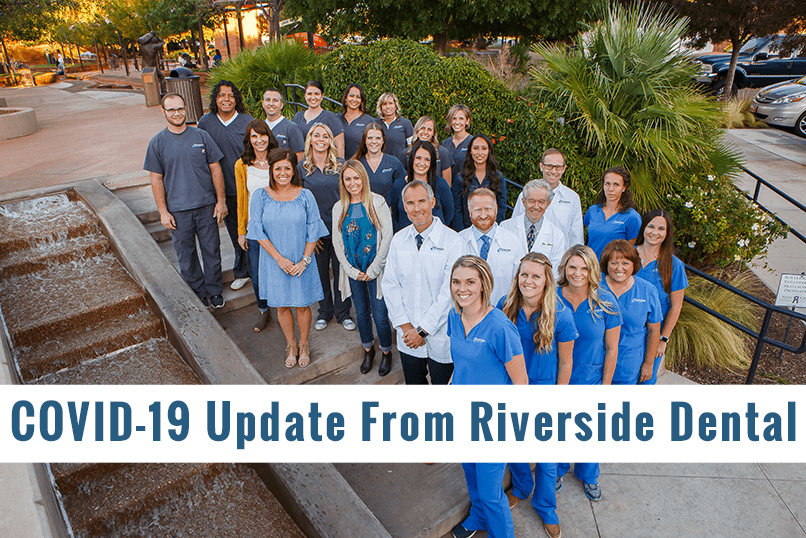 To Our Valued Patients and Families:
We hope this letter finds you and your family in good health. As you know, over the past six weeks we have only been able to treat those patients with emergency/urgent needs. We are excited that many of the restrictions placed on dentists during the "stay-at-home" phase of the pandemic have been lifted and we can again treat all of our patients that are in need of dental care.
We are proud that, during this closure, we have been able to continuously employ each team member that works here at Riverside Dental Care. We believe that doing so is socially responsible and will have a positive impact on our local economy. Our team members have used this time to brush up on continuing education and in refining systems in our office. Although we haven't been able to be open as much as we would like, we have been busy making improvements and would like to share some new developments with you.
As of Monday, May 4th we will be open for all of our patients' dental needs. This includes the opportunity for you to come and have your teeth cleaned by your Dental Hygienist. You may see some changes when you come to this appointment. We have spent the past six weeks researching all the best practices in order to treat patients in the safest way possible. We have been exploring new cleaning procedures that are even more effective in eliminating viruses than the excellent methods we have used previously.
This plan takes into consideration infection control recommendations made by the American Dental Association (ADA), the U.S. Centers for Disease Control and Prevention (CDC) and the Occupational Safety and Health Administration (OSHA). We follow the recommendations of these agencies so that our infection control procedures protect both our patients and staff.
Here are some changes that you can expect when you come in for your next appointment:
Upgraded Personal Protective Equipment. We will be using the N-95 level masks and face shields for the foreseeable future.
We will be fogging our office and treatment rooms to further eliminate the possibility of airborne pathogens using a spray of sodium hypochlorite solution. Not only is it more powerful than bleach at eliminating viruses and bacteria, it is completely safe and non-irritating to humans.
Our office will communicate with you beforehand to ask some screening questions. You'll be asked those same questions again when you are in the office.
When you arrive for your appointment we will take a forehead temperature and will immediately direct you to the treatment room. There we will have you rinse with a 1% Hydrogen Peroxide solution for 30 seconds.
You may see that our waiting room will no longer offer magazines, children's toys and so forth, since those items are difficult to clean and disinfect.
We have hand sanitizer that we will ask you to use when you enter the office. You will also find some in the reception area and other places in the office for you to use as needed.
Appointments will be managed to allow for social distancing between patients. That might mean that you will be offered fewer options for scheduling your appointment.
We will do our best to allow greater time between patients to reduce waiting times for you, as well as to reduce the number of patients in the reception area at any one time.
We look forward to seeing you again and are happy to answer any questions you may have about the steps we take to keep you, and every patient, safe in our practice. To make an appointment, please call or text our office at 435-673-3363 or schedule an appointment online.
Thank you for being our patient. All of us at Riverside Dental Care are excited and optimistic about the future. We value your trust and loyalty and look forward to seeing you soon.
Sincerely,
Dr. James K. Ott, Dr. David Stevens, Dr. Wade Stevens, Dr. Matthew Snyder, Dr. Curtis Roundy and the Riverside Dental Care team.