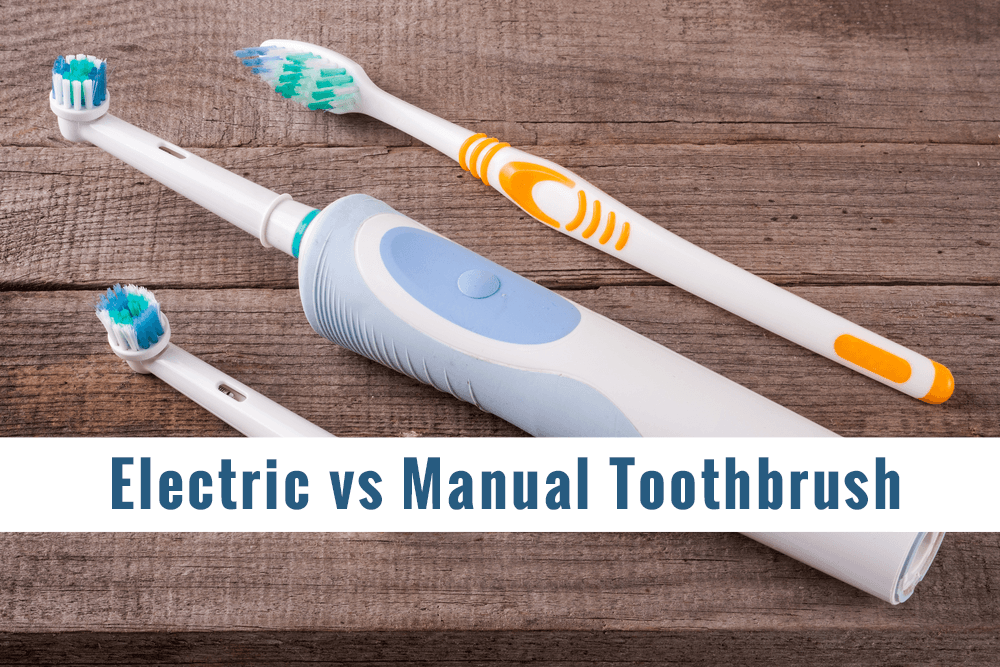 A pretty common question our dentists and dental hygienists get during dental cleanings is whether someone should buy an electric toothbrush versus sticking with a manual toothbrush.
With constant ads running for popular electric toothbrushes, it can seem like if you don't have an electric toothbrush, your teeth are not really getting clean. But is that really the case, or is there no difference between the two types of toothbrushes?
Here at Riverside Dental Care, we consider the electric toothbrush vs. manual toothbrush debate a matter of preference, not one of critical oral health. Depending on your oral health needs and wants, one of these toothbrushes will make more sense for you to use.
Electric Toothbrush vs. Manual Toothbrush
One of the main things you should consider whether you are looking at a manual toothbrush vs. an electric toothbrush is if it has the American Dental Association Seal of Approval. These accepted toothbrushes—both electric and manual—have been inspected and passed the guidelines the ADA sets for toothbrushes.
So, as you continue to read through the benefits of manual toothbrushes vs. electric toothbrushes, keep in mind that ultimately, you want one that is ADA accepted.
Benefits Of A Manual Toothbrush
Manual toothbrushes have been a staple of oral care in one form or another for centuries, and plenty of people feel like the old adage of, "If it ain't broke, don't fix it" applies. Some of the other benefits of a manual toothbrush are:
Affordable – A manual toothbrush is generally under $2, with the "fancier" manual toothbrushes almost never going over $4.
Available – You can easily find a manual toothbrush, whether you are at a gas station or a large grocery store.
Independent – There are no disposable batteries or charging to worry about when you have a manual toothbrush.
After routine dental services like a dental cleaning, our dental office will hand out a manual toothbrush. So, one of your every-three-months-toothbrush swap-outs can be handled by a free toothbrush from us!
Benefits Of An Electric Toothbrush
An electric toothbrush can be a bit more of an investment in your oral health, with an ADA accepted electric toothbrush running you anywhere from $15 to over $200. However, with this investment, you can receive these electric toothbrush benefits:
Removes more plaque – There has been research that shows that three months of using an electric toothbrush can reduce your dental plaque by 21%, as well as reducing gingivitis.
Can reduce waste – Many styles of electric toothbrush have disposable heads, while you keep the main body of the device. By needing to only dispose of the head, you create less waste than disposing of an entire manual toothbrush every three months.
Timers built-in – A lot of electric toothbrushes have a timer built into them, helping you to know how long you should brush each area of your mouth.
Helps those with mobility issues – For those who struggle with mobility issues, such as arthritis, carpal tunnel, etc., using an electric toothbrush can make it far easier to maintain proper oral health.
Also, if you have a kid that is struggling to clean their teeth properly, an electric toothbrush can help them reach all the spots they need to for the right amount of time.
Which Type Of Toothbrush Is Right For You
You know your oral health care needs best, and you should be able to tell which of these types of toothbrushes best suit what you require from a toothbrush. Keep in mind that you can substitute things like an external timer for a manual toothbrush and focused brushing to enjoy the benefits an electric toothbrush offers while still just using a manual toothbrush.
A critical part of your oral health routine is also biannual dental cleanings! So, if it is time for you to come in for an appointment, be sure to contact us today to schedule your dental cleaning or one of our other dental services.