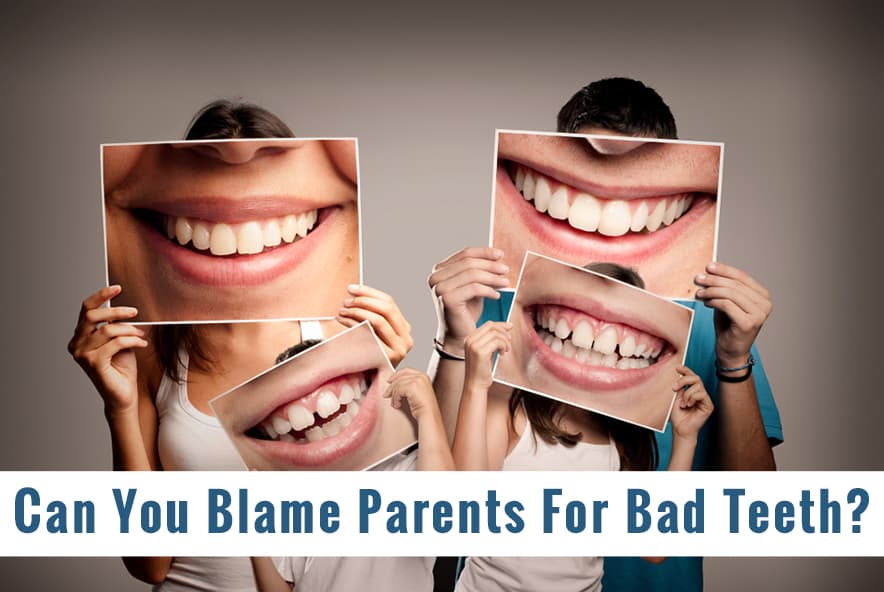 Regular good dental hygiene can do a lot to protect your teeth from cavities, gum disease, and other oral health issues. However, healthy brushing habits and regular dental visits don't mean you can't still have bad teeth, and some people wonder if that is due to their parents.
Our genetics can play a significant role in dental issues, from how your teeth are aligned—or not aligned—to whether you are likely to develop oral cancer. But hereditary isn't the end-all, be-all, and it's important to do your best to practice good oral hygiene habits.
There are several aspects of your dental health that can be impacted by your parents' genetics. That doesn't mean for sure that your teeth will be affected, only that it is possible for your oral health to be affected. Some hereditary dental issues are:
Dental Misalignment
Having misaligned—AKA, crooked—teeth is one of the most visibly common inherited issues. Traditional braces or invisible aligners are pretty straightforward solutions to misaligned teeth.
Jaw Issues
Several jaw issues, such as underbites, overbites, cleft lips, or cleft palates, are inherited from our parents' gene pool. Depending on the severity of the issue, there may not be any intervention needed, though jaw misalignment can be the trigger for TMJ disorder and periodontitis, so re-alignment options may need to be explored with our dentists.
Tooth Decay
Some variations gene beta-defensin 1 has been connected with having a higher risk of tooth decay. If you inherited a variation of this gene from one of your parents, you will likely need to be more vigilant with your dental hygiene, regular checkups, and ask our dentists about fluoride treatments and sealants.
Predisposed To Oral Cancer Development
Many types of cancers have a genetic link, and oral cancer is no exception. If you have a parent with oral cancer, the mutated gene that triggered the cancer may have been passed down to you. During dental cleanings, our dentists look for signs of oral cancer, so be sure to come in for your biannual appointments to help screen for it.
Genetics isn't the only way your teeth can be impacted. Your day-to-day choices play a significant part in the health of your teeth. Three key ways you can impact your dental health are:
Dental hygiene – Most individuals are pretty good at getting up and brushing their teeth, but may be inclined to just drop off to sleep and skip the nightly routine. Not only does poor oral hygiene allow bacteria to keep growing unchecked, but it puts you at risk of developing cavities, gum disease, discoloration, and other dental issues.
Sharing – By sharing, we mean sharing things like utensils, drinks, and other objects that make contact with your mouth. It may seem harmless to take a bite of a friend's meal, but that allows for their harmful oral bacteria to be deposited in your mouth and vice versa. This kind of sharing can lead to increased tooth decay and periodontal disease.
Dietary choices – Diets that are high in sugar or acids can be tough on the teeth. The acid will wear down your teeth faster, and sugar encourages oral bacterial growth, putting you at risk of accelerated tooth decay.
Hopefully, it is clear that while occasionally forgetting to floss or sharing a bite of food won't destroy your teeth, these are habits that can impact your long-term dental health. With some changes, you can better protect your oral health, no matter what genes your parents gave you.
As for what you can't fix with good habits and healthy choices, there are always cosmetic dentistry options to polish up your smile.
Many people have something they don't care for when it comes to their smile, whether it is a crooked tooth or not-so-pearly whites. But with professional cosmetic dentistry services, you can work with our dentists to create your ideal smile. Some of our cosmetic dentistry options are:
Professional teeth whitening
Dental crowns
Gum lift
Dental veneers
Denture options
Dental implants
Whether you are looking for a smile makeover or simply need a dental cleaning, you can always contact us. Our dental staff is ready to help you have the healthiest and happiest smile possible!