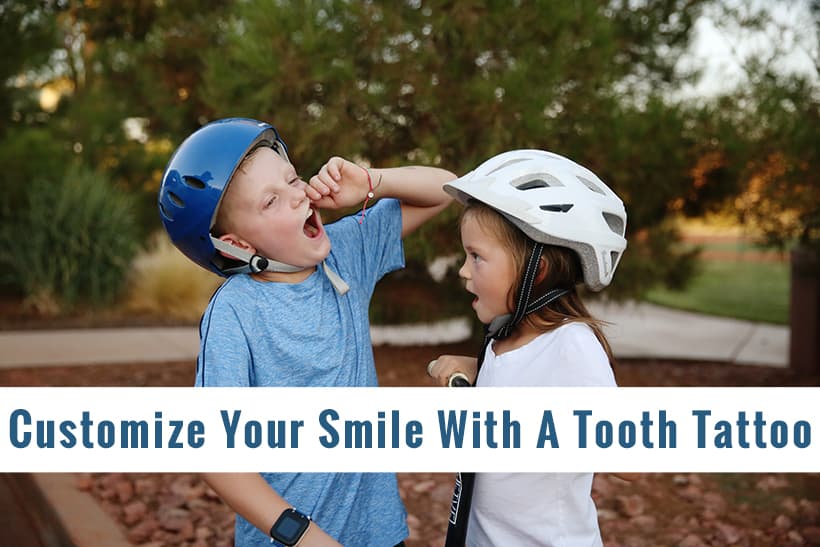 Personalization has made its way into every nook and cranny of our lives. We personalize our face masks, our bath towels, and even our license plates. Did you know that you can even personalize your dental crown? We're not kidding. You really can personalize your crown, it's like a tattoo for your tooth!
What Is A Tooth Tattoo?
Sometimes explaining what something is can be done more simply by explaining what something is not. A tooth tattoo is not like going to a local tattoo artist. It isn't something that is painted or carved onto your tooth crown by your dentist. Rather it is an image or symbol that you pick out and it is then fabricated directly onto the porcelain of your crown.
How Do Teeth Tattoos Work?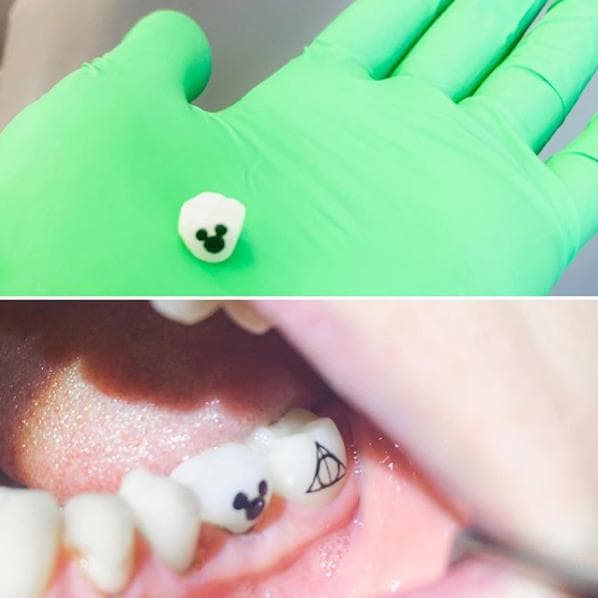 Dental tattoos are only done on crowns and not on natural teeth. When you go to your dentist for a tattoo crown, they will first take an impression of your tooth. This impression will be sent off to a lab as they will use it to help make your crown. We work with a lab that does an amazing job of creating crowns for our patients, they will go the extra mile and customize an image on your crown. It is very important to get someone who is skilled in this area of art so that you have beautiful results. Once the crown is made, the artist at the lab will paint on the design that you have selected for your crown. Then the tooth will be sealed so that the tattoo is protected from saliva and erosion. When completed, the crown will be sent back to our dental office and when you come to your appointment, your dentist will place and cement your crown.
Why Get A Tooth Tattoo?
A recent survey shows that about 40% of Americans have at least one tattoo. For many people, getting a tattoo is a way for them to make self-expression via their skin. Getting a dental tattoo is another unique form of body art. It's not only fun and creative, it's also easy and the most pain-free tattoo there is!
Which Teeth Should I Get A Tattoo On?
That really is a personal preference! Remember that it must go on a crown and not a natural tooth. Choosing the size and style of your tattoo will probably help you narrow down which tooth and location it will fit on best. Many people end up getting their dental tattoos on their molar teeth as this provides more surface for one, but a dental tattoo can be put on any crown.
Is It Safe?
Yes, getting a personalized dental crown is very safe. It is unlike skin tattoos in that the ink does not touch any part of your body. The dental sealant that was put over the tattoo keeps it from being able to contact any tissue in your mouth. The benefit of a dental tattoo is that it can also be easily removed should you decide down the road that you don't want it anymore. Your dentist can gently sand off the dental sealant layer and then sand off the remaining tattoo.
Speaking of safety, no one should ever have tattoo ink put on their teeth by a tattoo artist.
Have you considered personalizing your next dental crown? What unique statement would you like it to make? Tooth tattoos can be a fun, safe, and artistic way to self-expression! If you have any further questions about getting a dental tattoo or if you are ready to schedule your next appointment, give us a call or schedule your appointment online.