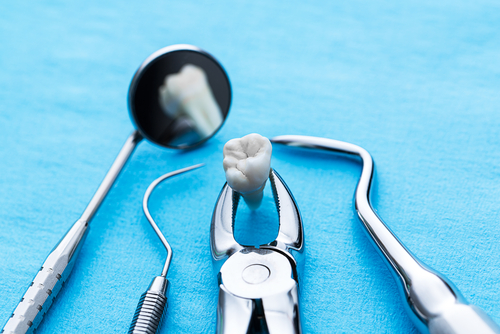 While most people try to avoid the extraction route, sometimes having a tooth extraction is a necessary process. A tooth with lots of decay, a cracked tooth, or a tooth infection may lead to needing a tooth extracted.
If you find yourself needing a tooth extracted, there is no need to stress! The extraction process is much more comfortable these days than it was decades ago. Local anesthesia, nitrous oxide, and even general anesthesia are used for some tooth extraction procedures. Once you are numb, the extraction is usually a relatively quick process. 
Once the tooth is extracted there are still things that you should be aware of, such as dry sockets.
A dry socket is a painful dental condition that occasionally happens after an adult tooth is extracted. Normally a blood clot forms at the extraction site. If this blood clot does not fully form or if this clot dislodges before the wound has healed, then a dry socket could form.
There are several things that you can do or avoid during your recovery phase to prevent a dry socket.
Keep Your Extraction Site Clean
It is best not to clean the extraction site for the first 24 hours as this could disrupt the clot. After the first 24 hours, it is recommended to keep the area clean with warm salt water rinse. This should be done in a gentle manner and not by vigorously swishing. The warm salt water can help keep the area clean by removing food and bacteria from the area.
Take Medications As Prescribed
You should follow your oral surgeon or dentist's recommendations as far as what pain medication should be used. For mild pain, one to two tablets of ibuprofen once every 6 hours is usually the recommendation. For more severe pain, your dentist may prescribe stronger pain relievers. They can be very beneficial for reducing pain but be aware that they slow your reflexes and they may leave you feeling groggy.
Avoid Strenuous Activity For At Least 2 Days
Exercise can increase your blood pressure and this could cause blood clot at the extraction site to dislodge. It is best to take it easy and avoid working out in the first 24-48 hours following your extraction. 
Eat Soft Foods Following Extraction
It is recommended to avoid hard, crunchy foods following extractions. Stick with soft foods for at least a few days. Good foods to eat following surgery:
Yogurt

Applesauce

Cooked cauliflower

Mashed bananas or avocados

Warm broth

Smoothie

Scrambled eggs
It is important to get good nutrition as this helps aid your body in the healing process. Getting enough protein is important in the wound-healing process. 
Don't Drink From A Straw Following Extraction
Drinking from a straw can create negative pressure in your mouth. This puts you at risk of dislodging the clot. Skip using a straw until your extraction areas have healed.
If you notice any of these dry socket signs or symptoms following your tooth extraction, we recommend reaching out to your dentist or oral surgeon::
Severe pain following your dental extraction

Loss of blood clot at tooth extraction site

Bad breath or foul taste coming from your mouth

Pain that radiates from the tooth socket to another part of your face

The bone is visible in the socket
At Riverside Dental, we want you to have all the information you need following your extraction. Following the above guidelines, will reduce your chances of developing complications such as dry sockets. Let our dental team know if you have any other questions or concerns about tooth extractions.