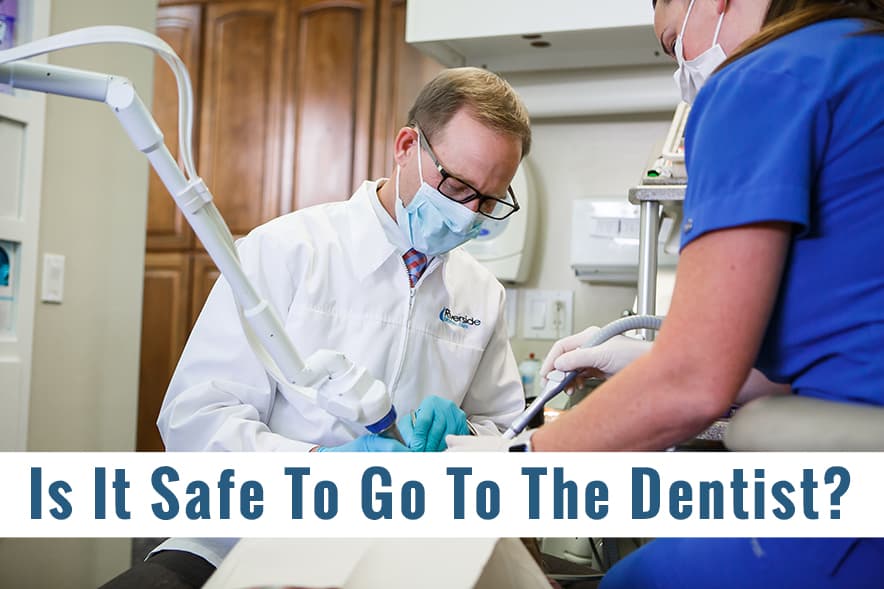 To develop appropriate safety measures and create new cleaning practices to protect staff and patients from transmission of COVID-19, Riverside Dental Care stopped doing elective procedures and only saw emergency patients for a month and a half. We are now reopened and are ready to welcome all dental patients and staff back.
But, it is one thing to reopen our dental clinics here in St. George, and it is entirely different if you feel it is safe to start going to the dentist again. While we are happy to reschedule your appointment if you aren't feeling confident yet, you may feel more confident once you know what Riverside Dental Care is doing to help protect you and our staff.
Our Precautions To Help Protect You And Our Staff
As detailed in our COVID-19 updates post, our dentists and staff have implemented a number of precautions and safety measures to keep our dental clinics as safe as possible.
Cleaning & Safety Procedures
Deep cleaning office and treatment rooms – Along with regular disinfection, we wanted to ensure our dental clinics are safe environments, so we have implemented more immersive cleaning strategies. We will be fogging our treatment rooms and offices. The fogging solution will utilize a sodium hypochlorite solution, which will help to eliminate any leftover pathogens while not irritating our patients and staff, unlike bleach.
New PPE measures – Our dentists and staff have upgraded the personal protective equipment being used at Riverside Dental Care. Along with using N-95 masks, we will be using face shields to help protect from any transmission.
Hand sanitizer – We will have hand sanitizer available for both staff and patients. As patients arrive, we will ask that the hand sanitizer be used.
Changes To Patient Arrival & Waiting
Patient scheduling – When you contact us to schedule your dental services, there may be fewer appointment times available. To help promote safe social distancing and reduce in-person waiting, we are blocking out more appointment slots to allow for fewer individuals in the waiting room at one time.
Screening questions – Before booking your appointment, our staff will ask a few screening questions. Once you arrive at one of our dental clinics, these questions will be asked again.
Waiting room – We ask that only the person with the appointment come to our clinic, as we are trying to promote healthy social distance. There are no magazines or toys in the waiting room anymore, as those are difficult to sanitize completely.
Temperature check – On check-in, one of our staff members will take your forehead temperature.
Rinsing – Once your temperature is taken, there will be a 1% hydrogen peroxide rinse that we will need you to use to swish in your mouth for thirty seconds.
Riverside Dental Care Is Open To Address Your Dental Needs
Ultimately, whether or not you feel it is safe to come in for our dental services will be up to you. We will continue to do our best to provide a safe and sanitized environment, as well as taking as many precautions as possible.
So, if you are ready to come in for dental care, you can contact us to set up your appointment. We do ask for patience when it comes to scheduling, and as we all work together, we can keep our community healthy and strong.