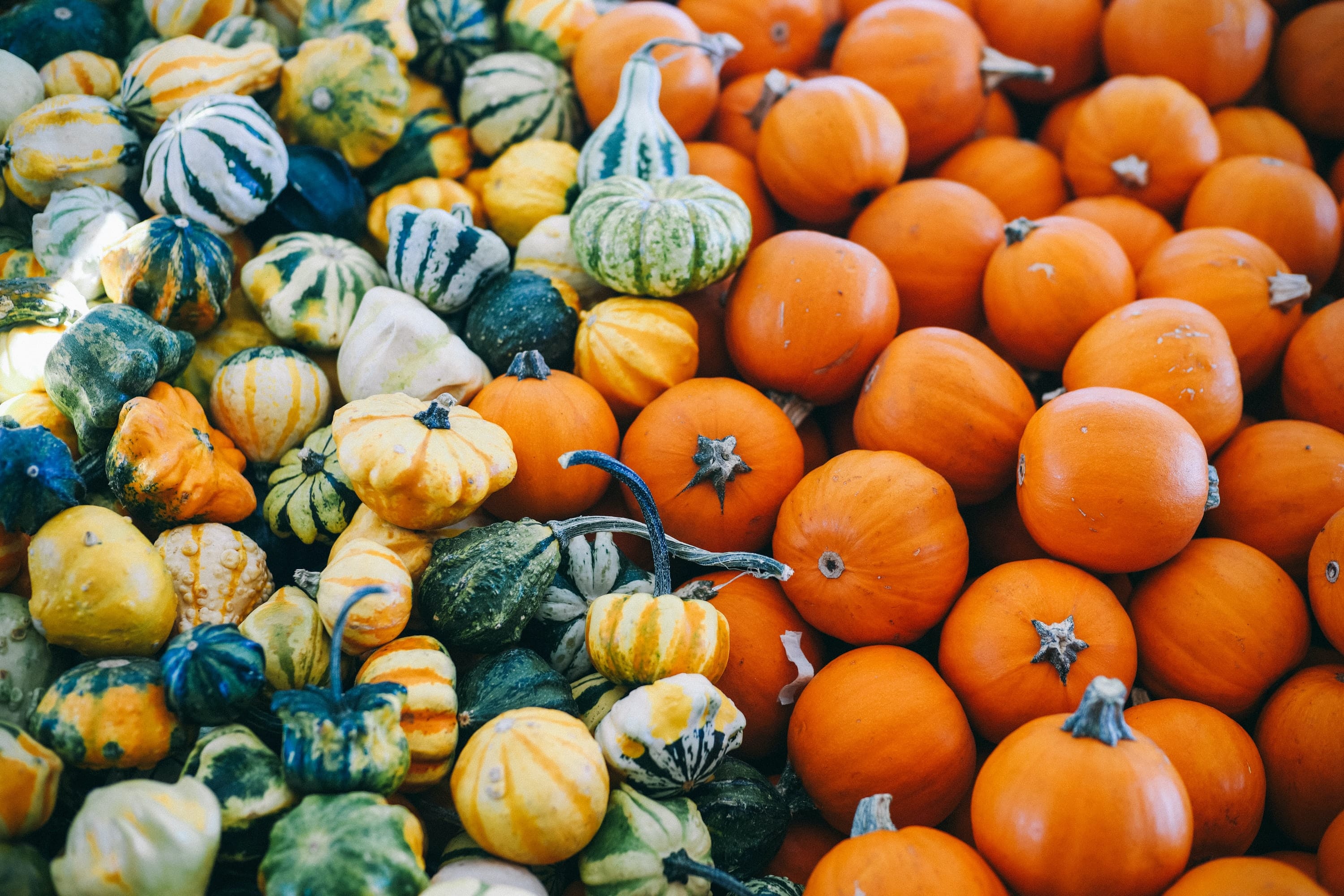 What comes to mind when you think about fall? If you're like our team, you picture crisp mornings, that favorite hot drink on a cool day, hearty dinners with loved ones and perhaps a few excuses to seek out the less than healthy options. Fall doesn't need to mean straying from making healthy choices for the health of your teeth and body as a whole.
There are many fall seasonal fruits and vegetables that can be used to make those hearty dinners and keep your fall as healthy as can be.
Fall Fruits and Vegetables to Load Up On
Is there any food that screams quintessential fall quite like pumpkin? From cheesecakes to lattes and savory dishes, pumpkin recipes abound when the cooler months arrive. Outside of being incredibly versatile, pumpkin is actually a very healthy choice in foods to integrate into your diet.
Pumpkin is packed with nutrients that are important for good oral health. Some of these include magnesium, zinc, along with vitamins A and C.
When you're carving your pumpkins, don't throw the seeds away. Pumpkin seeds are just as packed with the goodies your body needs to stay healthy. Including calcium, iron, phosphorus, fiber and protein. Nuts and seeds are generally low sugar options to consider. Be sure that you shell the nuts first, and don't try to crack them open with your teeth. That's a recipe for disaster and damage to your teeth.
Apples and pears are great fruits to enjoy as the temperatures dip outside. There are so many benefits to apples, including the fact that they are crunchy. Certainly apples have a high sugar content, but they are also loaded with fiber. Crunchy foods encourage saliva production. Saliva serves an important role in your dental wellness, due to ability to neutralize bacteria in your mouth.
Spinach and kale are wonderful fall vegetables to bulk out your salads, soups and stews. They contain plenty of iron and other vitamins essential to good dental and physical health.
Carrots are a delicious choice to enjoy in the fall! These cool weather crunchy treats are packed full of an array of important vitamins. They can be enjoyed roasted or broiled, or even raw. The crunch benefits are similar to what is offered with apples. Just take care not to overdo it on the dips if you're enjoying them raw.
Cranberries are a must-have with our Thanksgiving dinner. They offer a number of great health benefits. They are packed with vitamins and minerals, and are natural antioxidants. Take care with cranberries, however. They have the potential to stain your teeth if you enjoy them in excess.
Fall Fruits and Vegetables to Avoid
There are several fruits and vegetables that may not be the best in choices for your teeth this fall. Certainly, everything can be enjoyed in moderation.
Consider dried fruits, as delicious as they can be. Raisons, apricots, prunes, pineapples, mango and even pears are all often found in abundance in those holiday gift baskets and seasonal recipes. It's easy to think that enjoying these fruits in their dried form will offer us the same benefits yielded from their fresh counterparts. The reality is that dried fruits are much stickier, which means they can stick to your teeth and prove difficult to remove. Consider mixing dried fruit with mixed nuts, as the crunchy nuts can help to work some of the stuck-on fruit off of your teeth.
Canned vegetables from the garden's summer bounty are a wonderful thing to enjoy in the cooler months. Take care with some things that contain tomatoes. Tomatoes are certainly packed with those essential vitamins that we all love. But they can result in some serious stains on your teeth, particularly when enjoyed in excess. The same holds true for those sweet berries you picked and frozen or preserved as jams. These fruits contain a significant amount of sugar, and of course the process of making jam does typically include a lot of added sugar. It can be wonderful to enjoy a hint of summer during the fall, with blueberry jam on a scone. Just be mindful of the sugar and of the tooth staining potential.
Candy and pastries may not be fruits and vegetables, but let's be honest. They are offered in abundance during the fall months. Skip these sugar-laden treats, or enjoy them in moderation. The ultra-sticky candies can leave sugar stuck on your teeth, while the hard candies can potentially crack your teeth when you crunch on them.
Fall brings a variety of fruits and vegetables that we all love to eat and enjoy. Like most things in life, enjoy them in moderation and don't over-do it. There are plenty of fruits and vegetables that are great for your oral health but there are also foods that can stain and damage teeth if you are not careful. Fall is a great time to be seen for your professional dental cleaning and checkup and make sure your smile is in great shape. Call to schedule your appointment.